Yes, CBRS Can Power Your Private LTE Network… But How?
More IT professionals are turning to CBRS to power their private LTE networks. CBRS can be a great choice when public Wi-Fi and LTE networks are either not reliable or not secure enough to meet your organization's wireless needs.
3.5 GHz Offers the Best of 2.4GHz & 5GHz
The 2.4GHz frequency provides a wider range, but is slower than 5GHz, while the 5GHz section of the spectrum provides faster service to a smaller area. The 3.5GHz frequency offers a nice middle ground, balancing both speed and reach effectively and allowing for building penetration and non-line-of-sight connectivity.
Why Choose CBRS to Power My Private LTE Network Instead of Public WI-Fi or LTE?
Both CBRS powered networks and public Wi-Fi and LTE networks have their place. CBRS is able to smoothly integrate with traditional Wi-Fi and LTE networks and is more suited to applications requiring robust security protocols. For example, while a hotel may leverage their traditional Wi-Fi network to provide guest access, they would likely use a CBRS solution to handle credit card transactions, video surveillance, and panic button applications.
Which solution is better suited to your needs depends on which application you are using. Some applications call for a remote location to have a cellular-based LTE network with one modem for remote workers at an on-property maintenance building miles from the main property and would require the reach and speed of a CBRS network.
The Benefits
As with any solution, there are both benefits and drawbacks. CBRS is great because it offers a secure wireless connection and typically uses less power than a public Wi-Fi solution. This helps extend the battery life of devices connected to the network. Private LTE networks used for voice calls are also not usually subject to the monthly recurring fees associated with larger cellular carriers, making CBRS an attractive choice for heavy users.
CBRS has also been configured to be almost entirely interference-free, unlike the 2.4GHz and 5GHz bands of the spectrum. CBRS relies on automatic spectrum allocation to protect users from interference, making it an innovative approach to allocating and managing spectrum use.
The Drawbacks
CBRS networks often come with a SAS (Spectrum Access System) per device fee, which may be a drawback for some users. However, this nominal fee is still typically less expensive than monthly cellular fees, so even organizations with many devices may find CBRS is a more affordable solution than public Wi-Fi or LTE.
Which Solution is Best for My Organization?
Which solution is best for your organization depends on a variety of factors, including your needs. To help you determine whether CBRS or public Wi-Fi and LTE is best for you, you should consult with an experienced third party such as CommScope. Commscope is both a SAS provider and manufacturer of CBRS technology, giving them unique insight and experience into wireless connectivity.
CommScope has experience creating tailored solutions for the US federal government and smart cities as well as small and medium-sized businesses in a variety of industries, including:
The experts at CommScope will work with you to ensure whatever solution you choose is designed and configured to meet your unique needs.
What Are Some Things I Should Keep in Mind if I Want a CBRS Powered Network?
Not just anyone can certify a CBRS network. CBRS networks need to be certified by a CPI (certified professional installer) and work with a SAS (spectrum access system) provider. To help streamline this process, CommScope both manufactures CBRS equipment and is a certified SAS provider. For more information on CBRS, and how to get a tailored solution designed to meet your needs, please contact us.
Stay in the Know on Changes in the Channel
Our once-monthly newsletter is curated for people working in the IT industry. Get your copy today.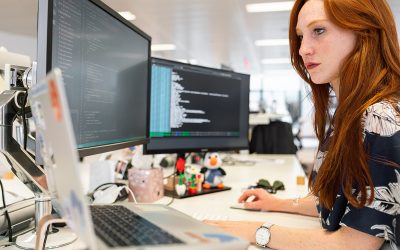 As we mark the first anniversary of the COVID-19 pandemic, remote work and remote learning have both become the norm. Unfortunately, this shift to remote learning brings with it a myriad of cybersecurity concerns that need to be addressed in order to keep your...