Why Education is a Good Predictor of Technology Adoption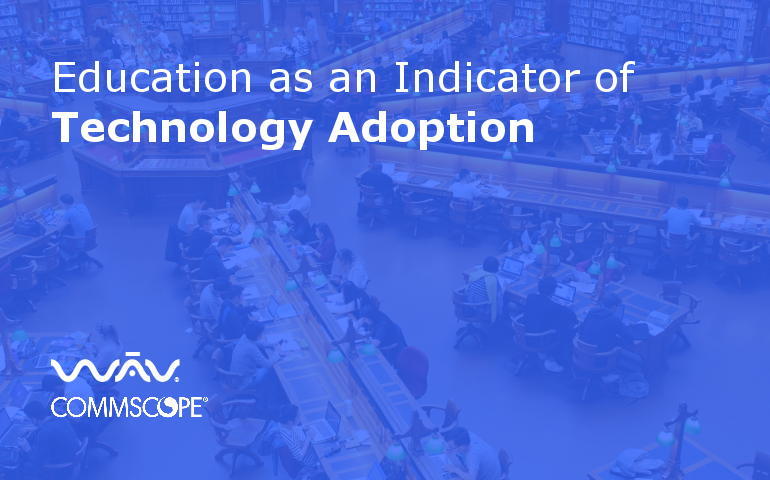 From 
primary education
 to 
post-secondary education
, schools around the world are turning to technology to enhance students' learning experience. Even before the global health crisis, many educators were incorporating digital resources, including VR and video-streaming, into their lesson plans.
As learning increasingly includes online and other technology-driven elements, educators of all grades and levels are adopting useful technology and incorporating it into the classroom environment.
High-Density Environments Need Networks That Can Keep Up
While VR, video-streaming, and other technology can be a huge asset in the classroom or lecture hall, technological learning aids are only as good as the networks that support them. High-density environments such as schools, universities, and colleges present unique Wi-Fi challenges as hundreds or even thousands of devices crowd onto the network and flood it with traffic.
When a network isn't able to support the number of devices that require a connection, everyone's connection slows to a crawl, batteries hemorrhage power trying to maintain a connection, and some devices may not be able to make or maintain a connection.
While adding more access points (APs) and other steps can improve Wi-Fi connectivity, it wasn't until Wi-Fi 6 (also called 802.11ax) that devices were able to spread out farther along the radio spectrum, creating less of a bottleneck.Wi-Fi 6 allows compatible devices to connect to the 6 GHz band of the radio frequency spectrum, while older devices continue to be restricted to the 2.4 GHz and 5 GHz bands of the spectrum. Creating a network that relies on Wi-Fi 6 compatible APs allows newer devices to migrate from the 2.4 GHz and 5 GHz bands to the 6 GHz band, freeing up space for older devices and giving everyone more room to work with. This ability to spread out improves speed and connectivity for everyone and helps devices stay charged longer as they no longer need to drain their batteries trying to get or maintain a signal.
Technology-Native Students Expect Excellent Network Performance
Back in the days of dial-up, connecting to the internet was, by default, a slow and arduous process. However, modern students have grown up surrounded by technology and expect their devices to respond promptly to their commands. As such, these technology-native students expect excellent network performance wherever they are on campus, from the lecture hall or classroom to the library and even out on the quad or schoolyard.
Even before COVID forced learning out of the classroom and into the home, many schools were investing heavily in their on-campus network infrastructure so that they could offer students a technologically enhanced learning experience.
Recent events have prompted many schools to quickly expand their Wi-Fi offerings so that students without reliable home internet access can participate in video lectures and complete online assignments from the parking lot or schoolyard. To ensure all students, regardless of geographic location or family income, can access the tools they need to learn online, some schools are turning school busses into mobile hotspots and deploying them in underserved communities.
The Campus Area Network of Tomorrow
When it comes to suggesting products to our customers, we only recommend products that meet our high standards. That's why we're proud to partner with companies like CommScope (Ruckus' parent company). CommScope products have a proven record in the digital education space, having designed networks for a variety of educational institutions including Millard Public Schools:
"Millard Public Schools required Wi-Fi 6 for our network infrastructure project because our curriculum demands more capacity and reliable connections to support digital learning tools used by students and teachers, and to support IoT applications which saves our district money in operational expenses. We selected Ruckus Wi-Fi 6 while taking advantage of E-Rate to help fund our network investment."

John Fabry, District Systems Analyst, Millard Public Schools, Nebraska
To help ensure educators have access to reliable, high-speed internet to support digital learning initiatives, CommScope has partnered with a variety of educational institutions of all levels to create smart campuses.
A good education is a strong predictor of future success. By working with partners such as CommScope, WAV can help you set your students up for success, both in the classroom or out in the community. For more onformation, please contact our team today.
Stay in the Know on Changes in the Channel
Our once-monthly newsletter is curated for people working in the IT industry. Get your copy today.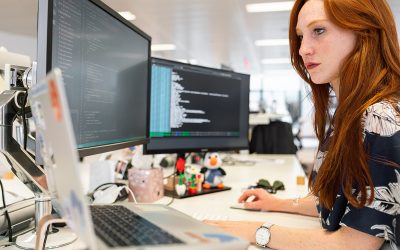 As we mark the first anniversary of the COVID-19 pandemic, remote work and remote learning have both become the norm. Unfortunately, this shift to remote learning brings with it a myriad of cybersecurity concerns that need to be addressed in order to keep your...